I was very excited to prepare myself for the "Colours in the road" tour again. I had been training my voice and swimming almost daily for weeks, so I was ready to rock again with my band. This time I knew that my daughter would be running around and I would need to run behind her as well, but that fact didn't make me worried. I was very happy to become the touring mama again.
Before the tour kicked off, we had a beautiful resting day after a long flight in Lisbon. Like the last time I was there, we walked a lot and took nice pictures of the city. I really love Lisbon, the architecture and the feeling of the city. It was also smooth "landing" to the European chilly weather from where I came, Caribbean heat, because we had +15°C!
The show was just a perfect beginning for the tour. Excited and very welcoming Portuguese audience made us feel loved. I was nervous before the show because we hadn't been playing with the band since November, so we made a really long sound check where we played all the songs through once. This was needed for my mental health! 🙂 It was really wonderful to rock in Lisbon again and I hope to see my fans there again some time soon.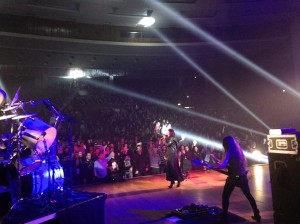 We travelled during night to Spain, Madrid where we had our second show. The venue was a real challenge for my crew since the place was small and limited with conditions, but again my people made me feel safe and sound. Spanish people were happy to hear me sing one of my new songs "Mystique Voyage" in Spanish. Afterwards the whole band felt like being in a Finnish sauna, it was that hot inside the venue during the show 🙂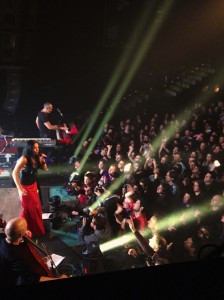 It had been a long time since my last visit in Bilbao, Spain. I remember from the last time that I had a nerve break down during the show day, since no one from my touring colleagues had taken care to organize me anything to eat, so I left the venue alone and cried my eyes out. Those were the days in around year 2000, luckily this time things were and are different.
We had a nice day off in Bilbao. Slept long in the morning and had a beautiful dinner in the city. So this time I had indeed something to eat and the people from Bilbao were happy to see me again 😉
One of my favourite cities in Europe is Barcelona. It was a rainy day and we didn't have a chance to see anything in the city, but it was anyway wonderful to be back in Barcelona and rock again with my fans over there.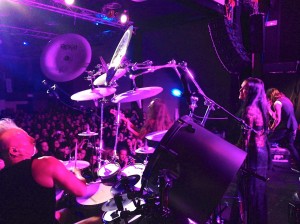 We left Spain behind and arrived to Toulouse, France next day. I remember this city very well from my last visit and expected to have a great, relaxing off day there. It was Sunday, but we found a really nice restaurant in the city centre and walked a lot during that day. I love to spend my off days outside, because during the concert days usually there is no time for more than work.
Everybody in my crew enjoyed the venue, good food and crowd during the show. It was delightful arrival to France where we were going to spend a lot of time on this tour.
What a pity that I didn't see the coastline of Marseille. I had a little walk around the venue before the sound check, but it was not enough to get a proper idea of the city, so I need to wait patiently for the next time. Since it was my first visit in Marseille, I was happy to see that local people received me so warmly there.
Lyon! Oh what a beautiful city. When we arrived, the sun appeared for us. So this time I didn't bring a winter storm with me like usually happens. I love the old city of Lyon and we spend amazing day off there. We stayed in a Renaissance hotel, very romantic and charming and had 7-course meal dinner! That dinner took us around 4 hours, but didn't matter…. it was just incredible! Only our little daughter got a bit frustrated waiting for the food for such a long time, but she behaved really well considering the situation J! I was happy to be able to do some shopping and get some fresh air.
The show was very nice, lots of screaming French people. We enjoyed the visit in Lyon a lot.
Next city, Bordeaux was a new place for me again and couldn't see much, but the show was really great! And we could enjoy the local famous Bordeaux wines…I have seen beautiful pictures of the city, so next time I wish to have an off day there to be able to see more.
Some people told me that Lille is a very charming, little town with beautiful architecture, but since I had never been there, I didn't know what to expect. Really! It was so lovely town. We walked and walked, took many pictures, made some shopping and ate well. I really enjoyed my day off in Lille.
Also the show was really fantastic. The French people gave us a lot of love and they made me feel that I must return soon. It was amazing to see some of my "crazy" French fans following me in every concert in France. Thank you for the support, kindness and care France!
We travelled over night to London via ferry, but as always you have to stop on the boarder for the passport check, so did we. It was around 04:00 am when I needed to put winter clothes on to my sleeping baby and get out myself in pyjamas to make a line for the passport control. You should have seen all that. There were lots of kids yelling and screaming and I just wanted to get back to my bunk in the bus. Well, Naomi didn't realize anything from the whole procedure, so I was lucky.
I was truly excited to have a show in London. It had been a long time since the last time. I also knew that there would be many international fans in the audience, which really made the show exceptional. London was really wonderful experience to my band and everybody enjoyed the show. Thank you for the patience and thank you for being there for me UK.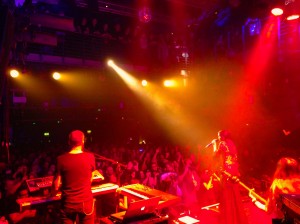 We woke up in Nottingham as usual after midday, enjoyed the morning coffee in the bus before we moved to your hotel. I wanted to see a bit of the city, since again I didn't remember if I had been in Nottingham before or not. If you wonder how on earth I cannot remember, let me tell you…I have been in "some places" in the last 15 years so I loose the track easily! It was chilly weather in Nottingham, the wind was killing us.
The city centre is really cute, tiny. We walked a bit around and enjoyed a tasty coffee there.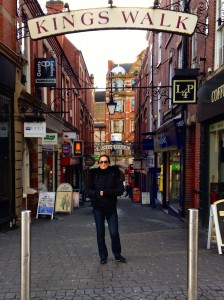 There were not too many people in the venue during the show, but nevertheless we enjoyed ourselves. I want to thank Rock City Nottingham for the opportunity to play there for the first time on my own.
It was raining in Amsterdam when we arrived there finally after a long journey. We needed to have a double driver in the last show days, since the distances between the cities were really long and for one driver too much. I was looking forward to have a great time with my Dutch fans and I got what I expected. It was amazing to rock with you people again. Nice country with many important female fronted metal bands, so I felt really welcomed.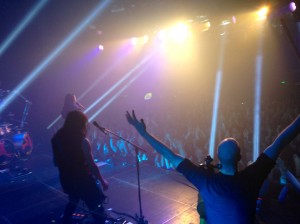 If I should need to choose where to live in Europe, it might well be Switzerland. I love the mountains, the lakes and the fact that there are not too many people around. Vevey was a wonderful new place for us to discover. The lake Geneva surroundings are just stunning and I got a chance to enjoy that with my family. Really a wonderful place, peaceful and beautiful. But it was really cold….hrrr.
The show happened in a really small venue, but packed with people to the limits. I had a good time with my Swiss fans and friends. I feel good when I can sweat during my shows; it makes me feel that I have had a good workout 🙂  During tours I usually don't have enough energy to go for a run, because to maintain all that I have to do, is stressful.
After only two hours drive at night and still in Switzerland, we encountered with snowstorm in the mountains. I got awake during the night, because I felt like we were not getting anymore ahead, but we were instead sliding backwards with the bus…it was for a while quite a scary feeling, because the drop down was deep. L Our driver Mino needed to put chains to the wheels and after some hours of work we could continue our journey again. So again, the winter storm was back with me ! Ha!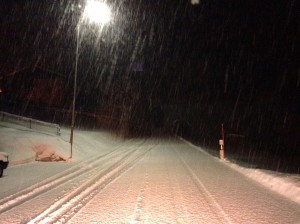 We arrived a bit late to Udine, Italy, but my crew got everything ready in time for the show. What a beautiful theatre, the venue! I love performing in theatres. They hold a very special atmosphere. I have also realized that my fans enjoy the fact that they can see my show without any disturbances.
To end this leg in Udine was the best ending ever. I almost cried at the end of the show for happiness. Italian fans were incredible and made me feel so loved. I am happy that soon in May will be other shows in Italy.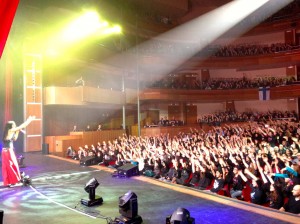 Thank you all for this tour, thank you for the love and care.
I will see you soon, this time in Russia. Only few days left!
With love, Tarja
Read more