The Colours are finally on the road!
How fun it has been to rock again with my band and fans; I had missed this very much.
To be honest, I really didn't know what to expect from the tour. My doubts were about how my daughter would accept the fact that we are travelling again and how I will adapt to the situation of being on the road again myself. Am I ready for it? Would it be the same than before having a baby?
All my doubts got washed away since the first day.  It has been truly wonderful to be able to sing new songs for my lovely fans.
We rehearsed three days in Zlin, Czech Republic from where we headed to Olomouc for the first concert. Everybody in my crew, including me, were nervous about the beginning since there were so many things to take in consideration during the show.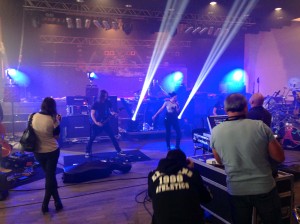 All seemed to be new again! I have some new crewmembers and a new bass player, Anna, in my band as well.
The concert in Olomouc was wonderful, just like a dream come true to me. I really appreciate the fact how the Czech audience had accepted me as an artist. I feel every time more and more welcomed, which of course makes me happy. The audience was really loud at times, so we got a great kick for the start of the tour. Lovely energy around 🙂
Next day I got to see a little bit the beautiful old town of Olomouc with the Mayer of the city and I had a signing session where I met lots of happy people.
I really enjoyed being in Kreuzberg, Berlin again for a day. We even got some time for shopping 🙂 before the show.
The day was nice despite of few drops of rain. I was not that nervous anymore like during the first show and we had fun with our Berlin audience. Apparently there were lots of people from different countries as well present and I saw many familiar faces in the first row 😉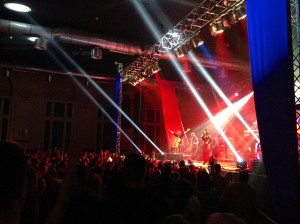 Julia, the designer from Nordenfeldt came to say hello after the show. You will hear some awesome news from our collaboration in the near future!
Other friend of mine, Sirja who has been tailoring my performing clothes ever since I started singing with Nightwish, has been on the road with us since the beginning, but leaving back home already in two days 🙁
Sirja has been fixing my clothes during these few days and she has done great!
After Berlin we travelled to Wieze in Belgium that is a familiar place already. Always a pleasure to perform in Metal Female Voices Festival. As I promised, we did a duet with Floor Jansen there and had a blast with our fans!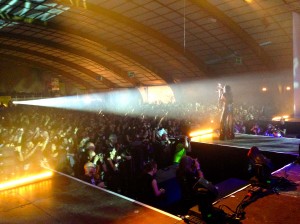 It was very nice to sing with Floor and to see how she has been growing as a singer. I wish her just the best for her future.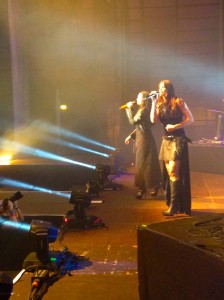 Another personal delight of that day was to meet Sharon and Robert from Within Temptation, who came to the festival just to enjoy the wine together that we didn't have the time to share before. I am so happy to realize that there is still good people, humble and down to earth existing in this world. I am grateful to have new friends in my life 🙂
Today we are ready to rock Hamburg after I finally had a good night sleep! Just finished sound check now. Good vibes!
With love, Tarja