Happy New Year 2014 for all!
I was very happy to return back to Finland for my traditional Christmas concert tour. It has become very important to me to make this tour happen and to prepare myself into Christmas mood with the help of the music. This time all the concerts were in churches so it was quite special tour.
First of all I had the honour to sing in Turku Cathedral in a very important event, which is held every year in Finland. The city of Turku invited me to be the only soloist in the event where the Christmas peace is declared and where also our President Sauli Niinistö was present. What made me extremely happy was that I got to perform my own Ave Maria with an orchestra in the national TV!! Thank you Turku for this opportunity and for letting me to be a part of your Christmas tradition.
Next day my own Christmas tour started from Orimattila where I had also a chance to meet my long time friends who I had been missing like crazy. It was an exciting beginning for the tour and I felt very comfortable to face my Finnish audience again.
I had 5 concerts as Tarja Turunen & Harus line up. It had been some time since we played together, but as always everybody of us had been busy. Nevertheless, making music together seemed only becoming easier and better. I had missed the feeling of singing with musicians that are improvising, which means that I never really knew what was going to happen during the concerts musically speaking.
I talked with some of my fans after the last concert of the tour and for them it had been nice to follow the whole tour, to see all the concerts and to realize that even though we played the same songs night after night, the arrangements and feelings/moods in the songs really could change radically. That is what I love about Harus. The musicians are so talented that the music is our instrument to create a great feeling that at the same time is making us to give the best out of us. It is rather incredible!
In Kokkola church I had the pleasure to sing with organist Ilpo Laspas for the first time. There we also performed with Max and Mervi who had been playing in my concert tours before. It was exciting to make a concert with someone that we had only one rehearsal of an hour or so! But it all went really great! I read somewhere that the concert was selected as the event of the year 2013 in Kokkola, so cannot make me happier 🙂
In Kemi I had my dream come true, since I got to make a concert alone with organist Kalevi Kiviniemi. We have done many concerts together, but the first time just the two of us.
He is just an amazing artist and I don't have words to describe his way of being also as a person. It's just magic what happens between two musicians when everything is in the correct place. I am sure we are going to repeat this experience with Kalevi in the future too 😉 ! Oh, what a night…
So all in this entire concert tour was an incredible experience to me once again. The concerts were truly a success, even though it has been like that in the earlier years, it felt different this time. The churches were packed with happy, relaxed people and I got great feedback from them about my singing.
I said goodbye to my family in Finland and nearly spent my Christmas in the plane.
We had several hours delay at the airport due to flooding and power loss at the terminal, but we managed to get just in time for the toast.
Thank you for 2013 and see you very soon in my rock concerts in Europe. Next stop, Lisbon 🙂 !
Now I have few days of rest before I hit the studio again to record few more songs for my "Outlanders" project.
I want to wish you all a happy year 2014!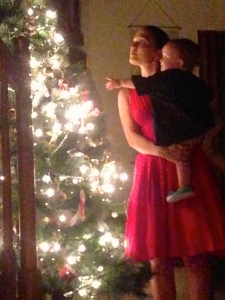 With love, Tarja
Ps: Thanks to Eleonora, Tatyana, Arina and Tommi for the photos